NS29 Session 32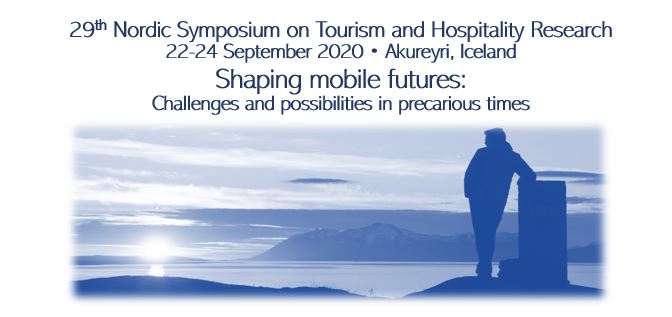 HOME     Program     Keynote speakers     Important dates 
Proposed sessions        Abstract submission 
PhD Seminar     Committees     Practical information     Contacts 
Title: Towards scenarios for the future of tourism mobility in Europe
Organiser: Albert Postma
Description:
During a special session at the 29th Nordic Symposium On Tourism And Hospitality Research 2020, the European Tourism Futures Institute @ NHL Stenden University will host a scenario planning workshop. The aim of the session will be to bring together the expertise of various delegates on "the future of tourism mobility in Europe" to jointly develop four different future scenarios. These scenarios could give some direction to answers to the questions formulated by the conference organisers.
The session will start with a short introduction to strategic foresight & scenario planning in relation to tourism and travel. Next, together, in a creative and informal setting, we will map the force field for the next decade, identify driving forces of change and their range of plausible outcomes, highlight the key uncertainties, and finally develop a scenario framework. The length of the session will be about three hours. This is too short to develop fully fleshed out scenarios and their implications. So, based on the outcomes of the session this will be done afterwards by ETFI. Hopefully, this could lead to a joint publication with all participants.
The group of participants is limited to 15. Ideally, the group is composed of representatives from knowledge institutions and the industry, with relevant expertise to contribute, and with an open mind. Participation is only possible for delegates of the 29th Nordic Symposium On Tourism And Hospitality Research 2020.
In this session we do not expect the participants to present their research, but we ask them to do some preparatory thinking beforehand. If you would like to join, please register (registration link will be provided). Since we are looking for a motivated group of max 15 delegates we would like you to register and give your motivation for your participation. About one week before the start of the conference, the participants who did submit their view and registered for the session will receive a pro forma on which they are requested to list several types forces in society that they perceive as having impact on the future of tourism mobility in Europe.