Researchers
Dr. Auður H Ingólfsdóttir holds a BA degree in international studies from University of Washington (Seattle), a post graduate diploma in professional journalism from University of Iceland, a Master degree in international relations from the Fletcher School of Law and Diplomacy, Tufts University (Boston) and a joint PhD degree in international relations and gender studies from University of Lapland and University of Iceland. Her PhD dissertaion focused on climate change and security in the Arctic, where she used a feminist perspective to analyse norms and values shaping climate policy in Iceland.
Dr. Ingólfsdóttir was an Assistant Professor at Bifröst University, Iceland for 8 years (2010-2017), where she also served as the Head of the Social Science Department for two years (2011-2013). Courses she taught included: Sustainable Development and CSR, International Politics, Arctic Politics and Conflict and Peace Studies.
Before entering academia Auður worked as a journalist (1995-97), as a special advisor in the Ministry for the Environment (2002-2003) and as an independent consultant on environmental policy (2003-2007). She also spent some time in Sri lanka as a cease fire monitor (2006) and worked for one year as a gender advisor for UNIFEM (now UN Women) in the Balkans
Her research interests are in the field of sustainable tourism and include topics such as climate change and tourism, nature based tourism and CSR within the tourist sector.
Location: University of Akureyri – Borgir research building, 7th floor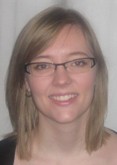 Eyrún finished her cand.mag-degree in communication from Aalborg University, Denmark in 2007. She finished a bachelor degree in humanistic informatics in the spring of 2005 from the same university and a bachelor degree in tourism from the University of Iceland in the spring of 2003. Eyrún started working at ITRC in mid-April 2008 and works on various projects locally in Iceland such as project within the Eyjafjörður region and also on projects in international collaboration e.g. within Northern Periphery Programme and Nordic Innovation. Besides that, Eyrún organises seminars, conferences and other events on behalf of ITRC.
Location: Askja, University of Iceland, Sturlugata 7, 101 Reykjavik 
Thorny Bardadottir holds a MA in research intensive Social Science, a BA in Media Studies from the University of Akureyri and a degree in Food Technology from Holstebro Technical College in Denmark. 
Thorny joined the ITRC's staff in September 2015 and her tasks count among other, cooperative project on Marketing Segmentation for the Icelandic tourism industry, Content Analysis on Tourism in the Icelandic Media and Cruise Ship traffic in Icelandic Waters.
Location: Location: University of Akureyri - Borgir research centre, 7th floor