29th Nordic Symposium - Akureyri 2020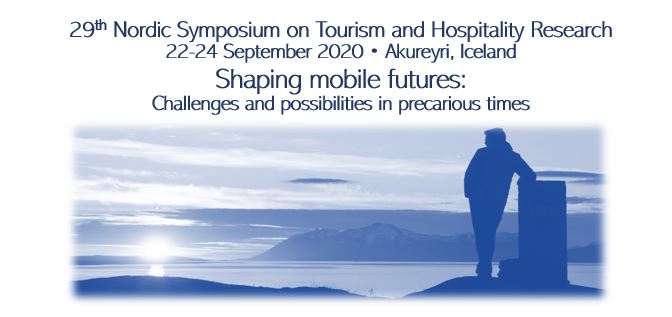 HOME     Program     Keynote speakers     Important dates 
Proposed sessions        Abstract submission 
PhD Seminar     Committees     Practical information     Contacts 
Announcement 24th March 2020
Abstract submission postponed
In light of the evolving situation regarding the COVID-19 crisis around the world, the organizing committee for the 29th Nordic Symposium on Tourism and Hospitality Research is postponing the call for papers and opening of registration until further notice. Updates will be posted to the symposium's website and distributed widely once they are available. The committee plans to evaluate the situation at the end of April.
We wish you, your families and loved ones all the best for the weeks and months ahead.
Sincerely,
Guðrún Þóra, Eyrún, Gunnar, Katrín and Ingibjörg
29th Nordic Symposium on Tourism and Hospitality Research
22-24 September 2020 • University of Akureyri, Iceland
PhD Seminar 21-22 September 2020 • Hólar University
Conference theme: 
Shaping mobile futures: Challenges and possibilities in precarious times
We live in a precarious time. Global climate change is increasingly disturbing species and habitats, and leaving humans searching for alternative ways to create liveable futures. Awareness is growing that the usual order of things does not hold for the future. Everyday discourse directs attention towards global risks and crisis, such as climate change and mass migration. At the same time hopes regarding economic growth and competitiveness hinge on technological innovations and smart solutions.  -  This raises questions about the competences and skills necessary for building decent conditions for life.
The concept of the Anthropocene underlines that humans have become geo-social force, which eliminates the traditional divide between nature and culture as usually defined forcing us to recognize ourselves as humble inhabitants of the Earth.
The Earth can no longer be framed as a passive resource for human exploitation.  Rather it needs to be acknowledged as an agent in its own right that we live with, not on or above. This demands new political and organisational configurations.
In this context, tourism mobilities hold a somewhat contradictory position. They can be seen as iconic for ever more intensified and unsustainable consumption while at the same time proclaimed to be a driver for sustainable growth. Tourism is blamed for depletion of resources, environmental degradation, CO2 emissions, cultural commodification, and labour and social inequality. Simultaneously it is seen as a tool for replacing resource-depleting economies, not least in peripheral areas in the North.
*Is there a way out of the vicious circle of irresponsible production and consumption towards more sustainable futures for tourism?
*Can tourism live up to its expectations and become something other than part of the problem and, if so, how?
*What sort of tools and methods are needed to plan for and manage tourism sustainably in a changing world?