Successful symposium on overtourism held in Reykjavik
(photo: MB)
Icelandic Tourism Research Centre, the Tourism studies of the University of Iceland in cooperation with Responsible Tourism Partnership and Plymouth University recently organised an international symposium in Reykjavik, Iceland about overtourism. Reykjavik has experienced an exponential tourism growth in recent years and has been faced with many of the challenges of overtourism are readily manifest. The symposium theme was Tackling Overtourism – Local Responses.
Overtourism describes the situations in destinations where hosts or guests feel that there are too many visitors and that the quality of life in the area or the quality of the experience has deteriorated unacceptably. It is the opposite of responsible tourism which is about using tourism to make better places to live in and better places to visit. Often both visitors and guests experience the deterioration concurrently.
The main purpose of the two-day symposium was to explore strategies to ensure sustainable tourism development where overtourism is occurring through local practices and empowered communities. One of the symposium sessions focused on what lessons can be drawn from the management of tourism in Barcelona. The session and panel discussions were available via live streams online (see recordings from the session and the panel discussions).
The symposium was a part in the series of The International Conferences on Responsible Tourism in Destinations (RTD). The Responsible Tourism Partnership is the rights holder for this series of conferences but the overtourism symposium in Iceland was the 13th in the series. Dr. Harold Goodwin founded the RTD-series of conferences, with the first International Conference on Responsible Tourism in Destinations taking place in Cape Town in August 2002 as a side event to the Johannesburg world summit on Sustainable Development. Since then the conferences have been held in many countries around the world including India, Oman, United Kingdom, Canada, Finland and now Iceland.
Collaborative research agreement signed
During the symposium a memorandum of understanding was signed between the University of Iceland, Icelandic Tourism Research Centre and Plymouth University. The main objective for collaborative research is to promote the establishment of research groups to focus on tourism impacts from different perspectives. By the end of the symposium four research groups had already been established to focus on tourism impact in protected areas, tourism impact in communities, tourism employment and methods to evaluate the impact of mass tourism. To begin with, the Icelandic Tourism Research Centre will facilitate the work of the research groups.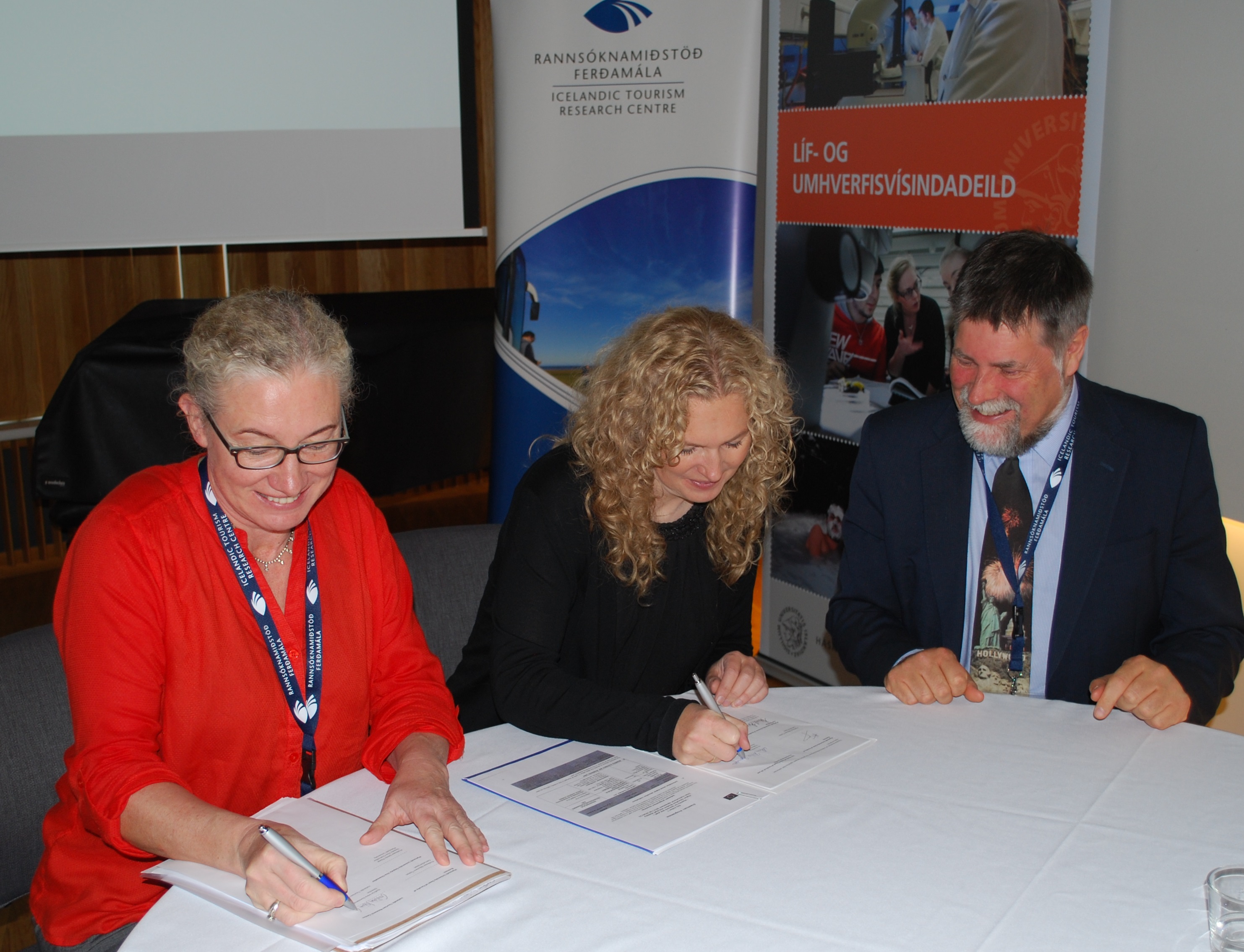 Guðrún Þóra Gunnarsdóttir, Director of the Icelandic Tourism Research Centre, Anna Dóra Sæþórsdóttir, Head of Faculty of Life and Envorinmental Sciences, University of Iceland and Professor John Swarbrooke,  Plymouth University, signed the collaborative research agreements (photo: Michaël Bishop)